If you're new to the work of emotional intelligence (EI) or if you're in need of a refresher, this article will define emotional intelligence and break down the four domains and twelve competencies that make up Daniel Goleman's framework.

There are four domains and 12 competencies in Daniel Goleman's model of EI. 
The four domains are:
Self Awareness
Self Management
Social Awareness
Relationship Management
Under the four domains mentioned above, there are 12 competencies:
Emotional Self-Awareness
Emotional Self-Control
Adaptability
Achievement Orientation
Positive Outlook
Empathy
Organizational Awareness
Influence
Coach and Mentor
Conflict Management
Teamwork
Inspirational Leadership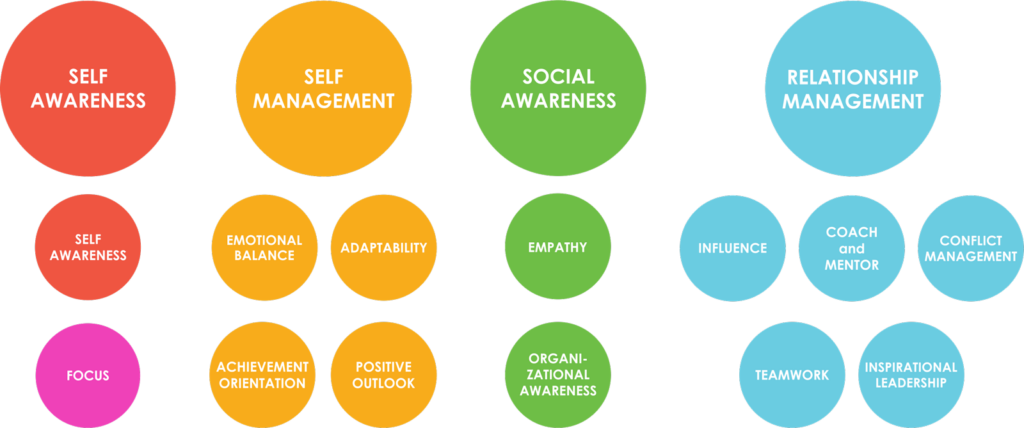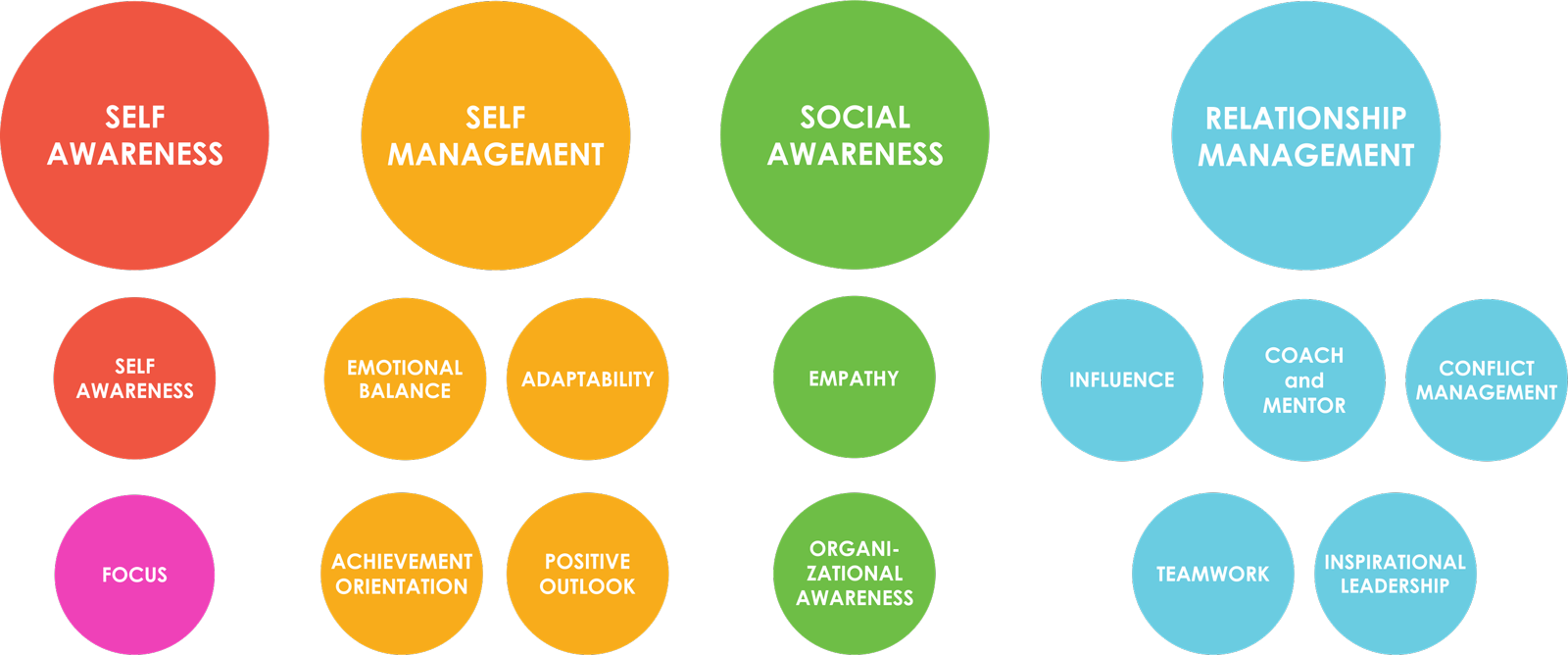 What is a Competence?
A competence is a skill needed to perform a role, or task. There are two types of competency: Threshold Competencies and Distinguishing Competencies.
Threshold Competencies are the minimum one needs to handle the cognitive complexity of a given task. Distinguishing Competencies are those traits found the the highest performers that set them above the average. Daniel Goleman and Richard Boyatzis analyzed the internal competency models of dozens of organizations to identify Distinguishing Competencies common to all, and built their model of Emotional Intelligence from that data.
The 12 Emotional Intelligence Competencies Defined
What is Emotional Self-Awareness? 
Emotional Self Awareness lies at the heart of emotional intelligence. Emotional self awareness is the ability to understand our own emotions and their effects on our performance. You realize how your feelings affect you and how well you're doing. Your values and sense of purpose help set your course of action.
What is Emotional Self-Control?
Emotional Self-Control (also known as emotional balance) is the ability to keep your disruptive emotions and impulses in check to maintain your effectiveness under stressful or even hostile conditions. With emotional balance, you recognize disruptive emotions—emotions that get in the way like high anxiety, intense fear or quick anger—and you find ways to manage your emotions and impulses. You stay calm and clear headed under stress, even during a crisis.
What is Positive Outlook?
Positive Outlook is the ability to see the positive in people in situations and events. It means persistence in pursuing goals despite setbacks and obstacles, you can see the opportunity in situations where others would see a setback that could be devastating, at least for them.
What is Achievement? 
The Achievement competence means that we strive to meet or exceed a standard of excellence. We look for ways to do things better. We set challenging goals, we take calculated risks. There's a big paradox about achievement orientation, and that is when you have positive goals, it's very helpful. But if you stay in this overdrive all the time and try to drive other people in the same pace, you can become a toxic leader. Even though achievement drive helps you get your career goals, it may make you unhappy in your life.
What is Adaptability? 
The Adaptability competence is flexibility and handling change and juggling multiple demands, adapting to new situations with new ideas or innovative approaches. It means you can stay focused on your goals, but easily adjust how you get there. You can meet new challenges and you're nimble and adjusting to sudden change. You're comfortable with the uncertainty that leadership can bring.
What is Empathy? 
The Empathy competence means you have the ability to sense others feelings and how they see things. You take an active interest in their concerns. You pick up cues to what's being felt in thought. with empathy, you sense unspoken emotions. You listen attentively, to understand the other person's point of view, the terms in which they're thinking about what's going on. empathic leaders are able to get along well with people of very different backgrounds and cultures, and to express their ideas in ways the other person will understand. Empathy doesn't mean psyching out the other person so you can manipulate them, but rather, it's knowing how best to collaborate with them.
What is Organizational Awareness? 
Organizational awareness means the ability to read a group's emotional currents and power relationships, identify influencers, networks, and the dynamics that matter in making decisions. A leader who can recognize networking opportunities and read key power relationships will do a better job at leading. Such leaders not only understand the forces at work in an organization, but also the guiding values and unspoken rules that operate among people.
What is Influence?
Influence as a competence refers to the ability to have a positive impact on others, to persuade or convince them to gain their support. If you're strong in the influence competence, you're persuasive and engaging and you can build buy-in from key people. Remember, leadership is the art of getting work done well through other people. And influence is the most powerful way to do that.
What is the Coach and Mentor Competency?
The Coach and Mentor competency is the ability to foster the long term learning or development of others. By giving feedback and support. You have a genuine interest in helping them develop further strengths. You give timely, constructive feedback, you understand the person's goals, and you try to find challenges for them.
What is Inspirational Leadership? 
The Inspirational Leadership competence is the ability to guide people to get the job done to bring up their best. With inspiration, you can articulate a shared mission in a way that motivates and offers a sense of common purpose. Beyond people's day to day tasks.
What is Teamwork? 
The teamwork competence is the ability to work with others toward a shared goal, participating actively sharing responsibility and rewards and contributing to the capability of the team. you empathize and create an atmosphere of respect, helpfulness and cooperation, you can draw others into active commitment to the team's effort. Leaders skilled at the teamwork competence build spirit, positive relationships, and pride of identity at being on the team. And it's not just teams. This competence holds the key to collaboration of any kind.
What is Conflict Management? 
The conflict management competency means the ability to help others through emotional or tense situations, to tactfully bring disagreements into the open and to define solutions that everyone can endorse. leaders who take time to understand the different perspectives work toward finding a common ground on which everyone can agree. They acknowledge the views of all sides, while redirecting energy toward a shared ideal, or an agreeable resolution. Clearly being able to manage conflict matters for leaders. But that doesn't mean convincing other people that yours is the correct opinion. There's a difference between winning and effectively managing conflict.
If you are just beginning to explore emotional intelligence, our hope is that this article served as a valuable starting point.
Remember, emotional intelligence is learned and learnable. Happy learning!
Originally published on Key Step Media